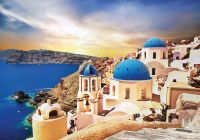 A selection of Scenic Travel Promotional Calendars showcasing beautiful images of landscapes, cities, monument, special places from around the World, USA, Canada, Europe, Asia, Germany, France, Italy, UK and many more.
These Scenic Calendars are filled with breathtaking images of Landscapes, Nature, Gateways pleasing to the eye and a window on the world far away or not, but making theses promotional calendars a window to look at every day. Looking at the images on these promotional scenic calendars will make your recipients feel like they were there, immerging themselves in a different ambiance, braking away for a moment from every day's life.
This style calendars are perfect for Travel Agencies, Landscape Companies, Resorts, Fundraising, Hotels, Retail Stores, Grocery Stores, Retirement Homes, Social Services, Outdoor Services and any business that wants to be remembered.
Your logo and company information is printed in the AD Space in Black or any color.